Haramaya University signs a Memorandum of Understanding with the Ethiopian Institute of Agricultural Research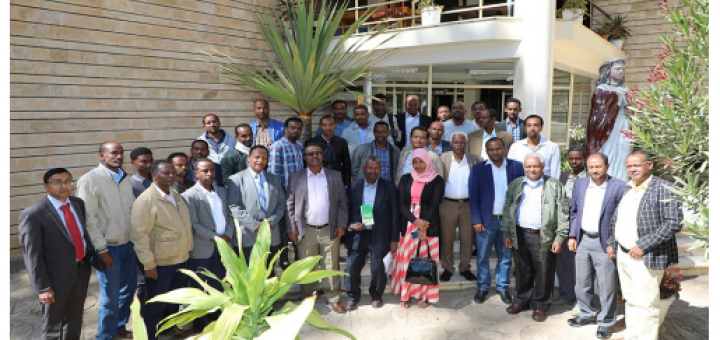 Haramaya University (HU) hosted a consultative meeting of the formation of East Node for Open Forum for Agricultural Biotechnology (OFAB) on 23 Dec. 2017.
OFAB is an Africa wide initiative with a network of eight Chapters. The Ethiopia chapter has been hosted by the Ethiopian Institute of Agricultural Research (EIAR) since March 2014. The aim of OFAB is to provides a platform of discussions for stakeholders from bureaus related to agriculture, research and academia, as well as the private sector. In this forum, these stakeholders meet and discuss various issues related to biotechnology and its relationship to agricultural development in Ethiopia.
Concurrently, during this consultative OFAB East Node establishment, stakeholders from East and West Hararghe Bureaus of Livestock and Fisheries, East and West Hararhge Bureaus of Agriculture and Natural Resources, Mechara Research Center, Fedis Research Center, private company (Chercher Oda Bultum Farmers' Union), regional higher institutions (Oda Bultum University and Dire Dawa University) and HU senior agriculture experts participated in the consultative meeting. The aim of this stakeholders meeting was a formal establishment of OFAB East Node and signing of a memorandum of understanding between HU and EIAR. OFAB East Node at HU will execute the activities on behalf of OFAB Ethiopia-EIAR.
Prof. Nigussie Dechassa, Vice President for Academic Affairs of the University made a statement during the official opening ceremony of the meeting, that application of biotechnology in agricultural production is useful; highlighting also the need for addressing issues of bio safety and strong regulation on the biotechnology products.
Dr. Bulti Tesso, Head School of Plant Sciences,   presented the importance of biotechnology in agriculture, medicine, industry and environment. In this presentation he gave introductory remarks on biotechnology which showed the role of biotechnology to satisfy the needs of ever growing human population, and the scope of the application of biotechnology in agriculture, health, industry and environment.
Director for Agricultural Biotechnology at EIAR and focal person of OFAB Ethiopia Dr. Endale Gebre presented the history of OFABs establishment dating back to 2006. He made clear the objectives OFAB to the audience. Issues of the different perceptions on biotechnology, regulatory systems of biotechnology, seed systems; biotech aspects of climatology, loss of genetic biodiversity, the role of mass media etc. were also discussed. The need for creating network with opinion leaders, as well as interact with policy makers and raising awareness have been emphasized. Many issues related to agricultural biotechnology application, safety regulation, biodiversity conservation, capacity for testing and research on biotechnology were forwarded by the stakeholders during the discussion session.
Finally, a consensus was reached on the relevance of awareness creation for successful application of biotechnology for agricultural production. Eventually, HU and EIAR signed the memorandum of understanding that would enable the two institutions to work together in the future on the objectives of OFAB.