Theme I.      Productivity and Environmental Sustainability for Food Security and Poverty  Alleviation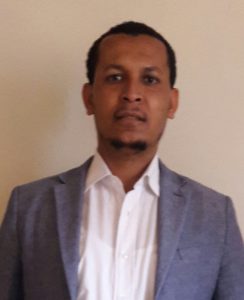 Awol Seid Ebrahim (PhD)
Academic Rank:Assistant Professor
Specialization: PhD in Plant Pathology (Nematology), Short Research Stay for molecular identification of plant-parasitic nematodes, MSc in Postgraduate International Plant Nematology and BSc in Crop Production and Protection
Research Interest:
Host-pathogen interaction and host-pathogen co-evolution

Investigating disease complexes and devising sustainable management strategies

Plant resistance screening and breeding for soil borne disease resistance

Biodiversity of plant pathogens at molecular level (main focus on soil borne pathogens)
 Contact Details: 
Haramaya University, P.O.Box 20, Dire Dawa, Ethiopia
E-mail: awolseid07@gmail.com
GSM: +251912442291
Fax: +251255530325/31/54
Seid, A., Dejene M., Wakgari M. & Terefe H. (2018). Haramaya University Plant Protection Program: Achievements, Challenges and Prospects. Booklet Prepared for the 24th Annual Conference and Silver Jubilee of the Plant Protection Society of Ethiopia (16-17 March 2018 at Haramaya University).
Seid, A., Fininsa, C., Mekete, T., Decraemer, W. & Wesemael, W.M.L. (2017). Resistance screening of clones and commercial tomato cultivars against Meloidogyne incognita and javanica populations (Nematoda) from Ethiopia. Euphytica 213:97, DOI 10.1007/s10681-017-1886-4.
Mwesige, R., Seid, A., & Wesemael W.M.L. (2016). Identification and Pathogenicity of Root-Knot Nematodes from Tomatoes grown in Kyenjojo and Masaka Districts in Uganda. African Journal of Agricultural Research 11(38): 3598-3606.
Seid, A., Fininsa, C., Mekete, T., Decraemer, W. & Wesemael, W.M.L. (2015. Tomato (Lycopersicon Esculentum) and root-knot nematodes (Meloidogyne spp.)-A Century Old Battle. Nematology 17(9): 995-1009.
Seid, A., Goftishu, M., Degebassa, L. & Mekete, T. (2015). Occurrence, distribution, and abundance of plant-parasitic nematodes associated with khat (Catha edulis Forsk) in East Hararghe Zone, Ethiopia. Nematropica 45:208-214.
Abebe, E., Mekete, T., Seid, A., Meressa, B.H, Wondafrash, M., Addis, T., Getaneh, G. & Abate, B.A. (2015). Research on plant-parasitic and entomopathogenic nematodes in Ethiopia: a review of current state and future direction. Nematology 17:741-759.
Mekonen, M., Ayalew, A., W/Tsadik, K. & Seid, A. (2015). Assessing and Measuring of Citrus gummosis (Phytophthora ) in Major Citrus Growing Areas of Ethiopia. Journal of Horticulture Volume 2(3): 154. doi:10.4172/2376-0354.1000154.
Goftishu, M., Seid, & Dechassa, N. (2014). Occurrence and population monitoring of a new species of the tomato leaf miner, Tuta absoluta (Meyrick) (Lepidoptera: Gelechiidae), in Eastern Ethiopia. East African Journal of Sciences 8(1): 59-64.
Mekonen, M., Seid, A., Ayalew, A. & W/Tsadik, K. (2014). Distribution of the Citrus Nematode (Tylenchulus semipenetrans) in Major Citrus (Citrus Sinesis) Growing Areas of Ethiopia. Pest Management Journal of Ethiopia 17:11-17.
Kebede, A., Argaw, A., Goftishu, M., Seid, , and Bekele, H. (2012). Identification of Causative Factor (s) of Groundnut Wilt in the Farmers' Field and Control Measure(s) Formulation. Proceedings of the 29th Annual Research and Extension Review Workshop Organized by Haramaya University Office of Research Affairs, Haramaya, Ethiopia.
About The Theme
The Ethiopian government has identified ensuring food security, conserving and sustaining the resource-base, and eradicating poverty as major issues of national priority. The goal is to ensure the attainment of a middle-income status in the year 2025 for a better life for all Ethiopians. In these endeavors, it is intended that rural and poor communities should have access to innovations, attain food security, and have accelerated status of development. It is also planned to provide new and more effective solutions to problems than those utilised previously in the overall national development efforts. Given the broad nature of this theme, priority will be given to basic, applied, and development research in the areas of agriculture, environmental and natural resources, climate change, agro-pastoralism, veterinary medicine, land use management, and