Theme II. Human Health, Nutrition, and Welfare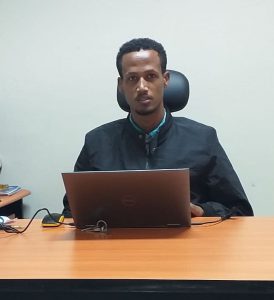 Tariku Dinget Amante (PhD) 
Academic Rank: Assistant Professor
Specialization:  PhD in Public Health; Master of Philosophy (MPhil) in Epidemiology
Research Interests
Adolescent and young adult sexual and reproductive health with the special focus on HIV/AIDS, contraception, and early marriage

Infectious disease epidemiology 
  
Contact Details
Telephone (mobile): +251911005126 
E-mail Address: tarikuud@gmail.com/tarikuf@yahoo.com
Postal Address: Haramaya University, College of Health and Medical Sciences, P.O.Box 235, Harar, Ethiopia
Dingeta T, Oljira L, Worku A, Berhane Y (2021) Low contraceptive utilization among young married women is associated with perceived social norms and belief in contraceptive myths in rural Ethiopia. PLoS ONE 16(2): e0247484.
Dingeta, Oljira L, Worku A., and Berhane Y. Unmet Need for Contraception Among Young Married Women in Eastern Ethiopia. Open Access Journal of Contraception, 2019 10:89-101
Atnafe B, Roba KT, Dingeta Time of recovery and associated factors of children with severe acute malnutrition treated at outpatient therapeutic feeding program in Dire Dawa, Eastern Ethiopia. PLoS ONE, 2019 14(6): e0217344.
Bekele E., Dingeta T and Tesema F (2018). Gestational Diabetes Mellitus Is a Risk for Macrosomia: Case- Control Study in Eastern Ethiopia. BioRxiv preprinting, 2018.
Dingeta and Abdosh T. Risk factors for unsuccessful tuberculosis treatment outcome (failure, default and death) in public health institutions, Eastern Ethiopia. Ethiopian Journal Health Development. Ethiop. J. Health Dev. 2014; 28(1):17-21 www.ejhd.org/index.php/ejhd/article/view/118
Dingeta, Oljira L, and Aseffa N. Pattern of risky sexual behavior and predisposing factors among higher education students in Ethiopia, 2011. The Pan African Medical Journal, 2012; 12(33): ISSN 1937-8688. www.panafrican-med journal.com/content/article/12/33/pdf/33.pdf

Dingeta T., Oljira L , Alemayehu T. and Akililu A.  First  sexual  intercourse  and  risky  sexual  behaviors  among  undergraduate  students  at Haramaya University, Ethiopia. Ethiopian Journal of Reproductive Health 2011; 5 (1): 22–30.
About the theme
Attaining full health and high living standard are central aspects for all development efforts. To achieve this, several policies and strategies have been set though there are a lot of multidimensional complexities towards meeting high life standards. Therefore, it is necessary to identify these hurdles in achieving human aspirations. The government of Ethiopia has put health at its forefront goals and devised a four-tier health delivery system connecting the health extension and promotion services to highly specialized disease management. Researching on major health issues is also given due emphasis in the country's programmes.
This theme shall focus on priority areas of health promotion, disease prevention, treatment of diseases, and rehabilitative efforts to human health problems and major reproductive, maternal, and child health concerns. Host, pathogen, environment interaction in relation of the occurrence health and wellness in one aspect and disease and disability in the other hand shall also be dealt with under this theme.