Theme II. Human Health, Nutrition, and Welfare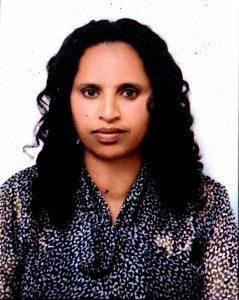 Firehiwot Mesfin Mengistu 
Academic Rank: Assistant Professor
Specialization: PhD in Public Health; Master of Applied Human Nutrition and Bachelor Science in Nursing
Research Interests
Diet Related Chronic Diseases
Maternal and Child Nutrition (Life cycle approach) and Nutrition Sensitive Intervention
Contact Details
Telephone (mobile): +251-910-13-12-50,
E-mail Address:  mfirehiwotm@gmail.com 
Postal Address: Haramaya University, College of Health and Medical Sciences, P.O.Box 235, Harar, Ethiopia
Anwar Seid, BerhanuSeyoum, and Firehiwot Mesfin.2017. Determinants of Acute Malnutrition among Children Aged 6–59 Months in Public Health Facilities of Pastoralist Community, Afar Region, Northeast Ethiopia: A Case Control Study   Hindawi Journal of Nutrition and Metabolism
Tadesse T., Mesfin,F. Chane T.2016 Prevalence and associated factors of non-exclusive breastfeeding of infants during the first six months in rural area of Sorro District, Southern Ethiopia: a cross-sectional study.International Breastfeeding Journal 11:25DOI: 1186/s13006-016-0085-6
Zerihun,E.,Mesfin,F. Egata,G.,2016 Under Nutrition and its Associated Factors among Lactating Mothers in Rural Ambo District, West Showa Zone. Oromia Region, Ethiopia. East African journal of Health and Biomedical Sciences, Volume 1(1):39-48.
Oumer, A.,Mesfin,F.,Demena,M.2016.Survival Status and Predictors of Mortality among Children Aged 0-59Months Admitted with Sever Acute Malnutrition in Dilchora Referral Hospital ,Eastern Ethiopia. East African journal of Health and Biomedical Sciences, Volume 1(1):13-22.
Belete Y, NeggaB ,Mesfin. F., Under Nutrition and Associated Factors among Adolescent Pregnant Women in Shashemenne District, West Arsi Zone, Ethiopia: A Communitybased Study. J Nutr Food Sci 2016, 6:1
Mesfin F, Berhane Y, Worku A (2015) Anemia among Primary School Children in Eastern Ethiopia. PLoSONE 10(4): doi:10.1371/ journal.pone.0123615
Mesfin F, Berhane Y, Worku A. (2015)Prevalence and associated factors of stunting among primary school children in Eastern Ethiopia.DovePress journal, Nutrition and Dietary Supplements
Mesfin F,Berhane Y, Worku A. (2015) School-Aged Children Felling Hunger at School Were at a Higher Risk for Thinness in Kersa District, Eastern Ethiopia: A Cross-Sectional Study. J Nutr Food Sci S12: 005.
Yisak H, Gobena T, Mesfin F. (2015) Prevalence and risk factors for under nutrition among children under five at Haramaya district, Eastern Ethiopia. BMC Pediatrics  15:212 DOI 10.1186/s12887-015-0535-0
Legesse M, Demena M, Mesfin F, Haile D. (2015) Factors Associated with Colostrum Avoidance among Mothers of Children Aged less than 24 Months in Raya Kobo district, North-eastern Ethiopia: Community-based Cross-sectional Study. J Trop Pediatr. 61(5):357-63.
Legesse M, Demena M, Mesfin F, Haile D. (2014)Prelacteal feeding practices and associated factors among mothers of children aged less than 24 months in Raya Kobo district, North Eastern Ethiopia: a cross-sectional study.Int Breastfeed J. 9(1):189.
Bekele, Y., Mengistie, B. and Mesfin, F. (2014) Prelactal feeding practice and associated factors among Mothers attending immunization clinic in Harari public health facilities, Eastern Ethiopia. Open journal of preventive medicine, 4,529-534
Dessie Y, Mesfin F. Researchers' Challenges:  Findings from In-depth Interview among University Academicians, Ethiopia.  Herald J.Edu and Gen Stud. 2013 069-071.
Teklemariam, Z., Mitiku, H. Mesfin, F.Anemia and Nutritional Status among HIV-infected children in ART unit of HiwotFana HospitalEastern Ethiopia. 2011
About the theme
Attaining full health and high living standard are central aspects for all development efforts. To achieve this, several policies and strategies have been set though there are a lot of multidimensional complexities towards meeting high life standards. Therefore, it is necessary to identify these hurdles in achieving human aspirations. The government of Ethiopia has put health at its forefront goals and devised a four-tier health delivery system connecting the health extension and promotion services to highly specialized disease management. Researching on major health issues is also given due emphasis in the country's programmes.
This theme shall focus on priority areas of health promotion, disease prevention, treatment of diseases, and rehabilitative efforts to human health problems and major reproductive, maternal, and child health concerns. Host, pathogen, environment interaction in relation of the occurrence health and wellness in one aspect and disease and disability in the other hand shall also be dealt with under this theme.