Theme II. Human Health, Nutrition, and Welfare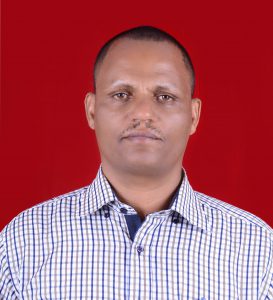 Tadesse Alemayehu Wondim 
Academic Rank: Assistant Professor
Specialization:  PhD in Public Health; Master of international Community Health and Bachelor Science in Environmental Health
Research Interests
Health care waste management
Infection prevention
Health institution acquired infection
  Contact Details
Telephone (mobile):+251-911-05-26-56,
E-mail Address:tadessewon@yahoo.com, tadessewon@hotmail.com 
Postal Address: Haramaya University, College of Health and Medical Sciences, P.O.Box 235, Harar, Ethiopia
Asmamaw Demis, Biftu Geda, Tadesse Alemayehu and Haimanot Abebe (2019). Iron and folic acid supplementation adherence among pregnant women attending antenatal care in North Wollo Zone northern Ethiopia: institution based cross-sectional study. BMC Research Notes 12:107. https://doi.org/10.1186/s13104-019-4142-2

Tadesse Alemayehu Alemayehu Worku, Nega Assefa (2018). Knowledge and practice of healthcare workers about standard precaution: Special emphasis on medical waste management in Ethiopia. International Journal of Infection Control v14:i2. doi: 10.3396/IJIC.v14i2.009.18

Shiferaw Bekele, Tadesse Alemayehu (2018). Birth preparedness and complication readiness and Knowledge, Attitude and Practice of pregnant women who attend antenatal follow up at Chiro Zonal Hospital eastern Ethiopia. Ethiopian Journal of Reproductive Health 10(3):57-66

Tadelle Doylo, Tadesse Alemayehu, Negga Baraki (2018). Knowledge and Practice of Health Workers about Healthcare Waste Management in Public Health Facilities in Eastern Ethiopia. J Community Health 44(2):284-291. DOI 10.1007/s10900-018-0584-z

Yayehyirad Yemaneh, Abel Girma, Wondessen Nigussie, Dejene Hailu, Taddesse Alemayehu (2017). Under nutrition and its associated factors among adolescent girls in rural community of Aseko district, Eastern Arsi Zone, Oromia region, Eastern Ethiopia. International Journal of Clinical Obstetrics and Gynecology 1(2): 17-26.

Daniel Shiferaw, Maeregu Seboka, Bezatu Mengestie, Tadesse Alemayehu (2017). Household Solid Waste Management Practice Associated Factors and Service Delivery Performance of Private Solid Waste Collectors in Dire Dawa City, Eastern Ethiopia. International Journal of Innovative Research in Science, Engineering and Technology 6(10).

Alemayehu T, Worku A, Assefa N (2016). Sharp injury and exposure to blood and body fluids among health care workers in health care centers of eastern Ethiopia. Int J Occup Environ Med 7:172-180.

Meselu Atnafe, Nega Assefa and Tadesse Alemayehu (2016). Long-acting family planning method switching among revisit clients of public health facilities in Dire Dawa, Ethiopia. Contraception and Reproductive Medicine 1:18.

Addisu Melkie, Tadess Alemayehu, Eyobe Tarekegn (2016). Pattern of Acute Abdomen in Dil Chora Referral Hospital, Eastern Ethiopia. International Journal of Collaborative Research on Internal Medicine & Public Health 8(11):607-15.

Yosef Habte, Berhanu Seyoum and Tadesse Alemayehu (2016). Hepatitis B Virus Infection and Associated Factors among Blood Donors at Dire Dawa, Eastern Ethiopia. Antivir Antiretrovir 8(4):103-06

Tadesse Alemayehu, Alemayehu Worku and Nega Assefa (2016). Medical Waste Collectors in Eastern Ethiopia are Exposed to High Sharp Injury and Blood and Body Fluids Contamination. Prev Inf Cntrl. 2(2):7

Dejene Kusha, Tadesse Alemayehu and Lema Mideksa (2015). Outcome of Hysterectomy and Associated Risk Factors in Gelemso Zonal Hospital of Western Hararge, Ethiopia. World Journal of Medical Sciences 12(1): 36-41.
Tadesse Alemayehu, Alemayehu Worku, Nega Assefa (2015). Community Risk Perception on Healthcare Wastes in Hospitals and Health Centres of Eastern Ethiopia. Science Journal of Public Health 3(1):37-43. doi: 10.11648/j.sjph.20150301.17

Nigatu Merga, Tadesse Alemayehu (2015). Knowledge, Perception, and Management Skills of Mothers with Under-five Children about Diarrhoeal Disease in Indigenous and Resettlement Communities in Assosa District, Western Ethiopia. J HEALTH POPUL NUTR 33(1):20-30

Bereket Damtew, Bezatu Mengistie and Tadesse Alemayehu (2014). Survival and Determinants of Mortality in Adult HIV/AIDS Patients Initiating Antiretroviral Therapy at Kharamara Hospital in Somali Region, Eastern Ethiopia. J AIDS Clin Res 5:7

Abate M, Assefa N, Alemayehu T (2014). Knowledge, Attitude, Practice, and Determinants Emergency Contraceptive Use among Women Seeking Abortion Services in Dire Dawa, Ethiopia. PLoS ONE 9(10): e110008. doi:10.1371/journal.pone.0110008

Kelati H, Mengiste B, Alemayehu T, Damtew B (2014). Prevalence of Acute Malnutrition and its Associated Factors among Children aged 6-59 months in Mai-Aini Eritrean Refugees' Camp, Northern Ethiopia. J Nutr Food Sci 5: 336. doi:10.4172/2155-9600.1000336

Tariku Dingeta, Lemessa Oljira, Tadesse Alemayehu and Ayalu Akililu (2011). First sexual intercourse and risky sexual behaviors among undergraduate students at Haramaya University, Ethiopia. Ethiopian Journal of Reproductive Health  5 (1)
About the theme
Attaining full health and high living standard are central aspects for all development efforts. To achieve this, several policies and strategies have been set though there are a lot of multidimensional complexities towards meeting high life standards. Therefore, it is necessary to identify these hurdles in achieving human aspirations. The government of Ethiopia has put health at its forefront goals and devised a four-tier health delivery system connecting the health extension and promotion services to highly specialized disease management. Researching on major health issues is also given due emphasis in the country's programmes.
This theme shall focus on priority areas of health promotion, disease prevention, treatment of diseases, and rehabilitative efforts to human health problems and major reproductive, maternal, and child health concerns. Host, pathogen, environment interaction in relation of the occurrence health and wellness in one aspect and disease and disability in the other hand shall also be dealt with under this theme.