Theme III. Energy, Engineering, and Information Technologies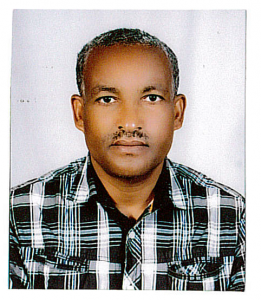 Abebaw Adgo Tsegaye (PhD)
Academic rank:      Assistant Professor
Specialization:        Physical chemistry
Research interests:   Electrochemical sensor, Super-capacitors and electro-catalysis  
Contact Details
Email: abebawadgo@gmail.com
Telephone (Mob): +251 938 238996  
Telephone (Office): Tel: +251-255530394
Fax:    +251-255530331
Postal address:  P.O. Box 189, Dire Dawa, Ethiopia
Abebaw A. Tsegaye, Tesfaye T. Waryo, Priscilla G. Baker, Emmanuel I. Iwuoha Electropolymerization and spectroelectrochemical properties of poly(4,7-dithien-2-yl-2,1,3-benzothiadiazole) films in three 1-butyl-3-methylimidazolium ionic liquids. Materials Chemistry and Physics 171 (2016) pp 57-62.

Abebaw A. Tsegaye, Tesfaye T. Waryo, Shimelis Admassie, and Emmanuel I. Iwuoha Poly(3-methoxythiophene/ 3,4-ethylenedioxythiophene) Homopolymer and Heteropolymer Films Electrodeposited in Two Imidazolium Ionic Liquids: Voltammetric, UV/Vis Spectroelectrochemical, and AFM Morphology Comparisons, International Journal of Electrochemical Science, 9(2014) pp 4840 – 4853.

Oluwakemi Tovide, Nazeem Jaheed, Nurali Mohammed, Eto Nxusani, Chirstopher E. Sunday, Abebaw Tsegaye, Rachel F. Ajayi, Njagi Njomo, Hlamula Makelane, Mawethu Bilibana, Prisilla G. Baker, Avril Williams, Sibulete Vilakazi, Robert Tsnikhudo, Emmanuel I. Iwuoha Graphenated polyaniline doped tungsten oxide for real time determination of Phenanthrene.  Electrochimica Acta, volume 128, 10 May 2014, pp 128 – 148.

Natasha Ross, Emmanuel I, Iwhoha, Chinwe O. Ikpo, Priscilla Baker,Njagi Njomo, Stephene N. Mailu, Milua Masikini, Nolubabalo Matinise, Abebaw Tsegaye, Noluthando Mayedwa, Tesfaye Waryo, Kenneth I Ozoemena, Avril William Amplification of Discharge Current Density of Lithium ion Battries with Spinel Phase Li(PtAu)0.02Mn1.98O4 Nano-materials Electrochimica Acta, volume 128, 10 May 1014, pp 178-183.

Abd Almonam Baleg, Nazeem Jahed, Anne L. Djoumessi Yonkeu, Njagi Njomo, Gcineka Mbambisa, Kerileng M. Molapo, Xolile G. Fuku, Gertrude Fomo, Hlamulo Makelane, Abebaw Tsegaye, Tesfaye T. Waryo, Priscilla Baker, Sibulelo Vilakazi, Robert Tshikhudo, Emmanuel I. Iwuoha Impedimetry and microscopy of electrosynthetic poly(propylene imine)-co-polypyrrole conducting dendrimeric star copolymers Electrochimica Acta, Volume 128, 10 May 2014, Pages 448-457

Milua Masikini, Stephen N. Mailu, Abebaw Tsegaye, Njagi Njomo, Kerileng, M. Molapo, Chinwe O. Ikpo, Christopher Edozie Sunday, Candice Rassie, Lindsay Wilson, Pricilla G. L. Baker, Emmanuel I. Iwuoha. Fumonisins immunosensor developed on polyanilino-carbon nanotubes doped with palladium telluride quantum dots. Sensors, 15(2015), 529-546.

Milua Masikini, Stephen N. Mailu, Abebaw Tsegaye, Chinwe O. Ikpo, Njagi Njomo, Tesfaye T. Waryo, Pricilla G. L. Baker, Emmanuel I. Iwuoha In-situ Electrochemical Synthesis, Microscopic and Spectroscopic Charactorization of Electroactive poly(2,5-dimethoxyaniline)-Multi Walled Carbon Nan tubes Composite Film in Neutral Media. Int. J. Electrochem. Sci., 9(2014) 7003-7020.

U.S. Tandon, Tizazu Habte, Abebaw Adgo, Ameha Kebede Solid State Fermentation: Extraction of Enzyme from Fungus and its use in the synthesis of Silver Nanoparticles
International Journal of Advanced Research in Science, Engineering and Technology 4( 5), 2017.
About The Theme
This theme includes engineering and information technologies, energy, manufacturing, metal industry, power industry, food analysis, agricultural machinery, and emerging research areas.
This research them identifies a number of technology missions for significant targeted investment in key technology fields that are important for the development of the agricultural, health, and  industrial sectors of Ethiopia. These include the engineering and information technology platforms. Thus, technologies for manufacturing and for leveraging resource-based industries such as agriculture, fishing and forestry, mining, power industries, and minerals and energy production will be emphasised. The areas of research include the following technology missions and technology platforms: information communications technology (ICT); farm implements; farm power and agricultural machinery; manufacturing and resource-based industries; manufacturing; power; new emerging research areas such as nanotechnology; synthetic biology etc.