Theme III. Energy, Engineering, and Information Technologies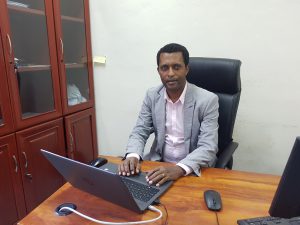 Getachew Neme Tolesa (PhD) 
Academic rank:  Assistant Professor
Specialization: Assistant Professor of Postharvest, Food Science & Technology, Former Associate Director for Undergraduate Programs, Former School Head, Food Science and Postharvest Technology, Department of Food Science & Postharvest Technology. Haramaya Institute of Technology, Haramaya University, Ethiopia
Research interests: 
Agro-food processing systems for the value-addition along the food value chain,

Integrated postharvest pre-storage treatments and technologies to extend the shelf-life of fresh produces (fruit and vegetables, ornamentals,…etc),

Food- Science, -Technologies, -Engineering and Nutrition-related issues in agro-food processing value chain,

Heat and mass transfer, fluid flow, porous media, kinetics modeling, multiphase systems, microfluidics and multiphysics in food materials systems, and

Computer-aided engineering design and optimization applications in agro-food processing systems.
Contact Details
Email: getachewneme@yahoo.com/getachewneme@gmail.com
Telephone (Mob): +251938034824 Telephone (Office): +251255530324
Fax (Office): +251255530106/325/331
Research Grants /Awards
Formulating Food Product for COVID-19 Patient Treatment, HU Grant-August, 2020 (Team member).

Evaluation of Biodegradable Food Packaging Materials in Terms of Their Effects on Physiological, Biochemical and Microbiological Quality of Tomatoes In South African Supply Chain. Tomato Producer Organisation (TPO) (TPO Project 20 – 19). For 2020-2021 (Member of the project as a postdoctoral research fellow).

The ZZ2 tomato producer and the Tomato Postharvest Innovation (PHI) Programme project grand for three years (2015-2018).

South African National Research Foundation grant (NRF – TWAS) with reference Number: SFH150902141138, for two years (2016 and 2017).

Awarded, FAO complementary food processing for infants of 6-24 months project implemented at Oromia Region, Jijiga Zone, Chinakson Woreda, with a team of HU staff from 2011-2012.

Awarded Haramaya University (HU) Grant for research on Biogas-production capacity, feasibility and production from HU bio and food wastes in 2012.

Awarded MSc scholarship in Belgium by VLIR-OUS scholarship in 2008-2010.
Some Publications in Refereed Journals and Book Chapters
Chisenga, S.M., Tolesa, G.N. and Workneh T.S. (2020). Biodegradable Food Packaging Materials and Prospects of the Fourth Industrial Revolution for Tomato Fruit and Product Handling. International Journal of Food Science: p. 8879101. DOI: 1155/2020/8879101
Geleta T. T., Habtegebreil S.A., Tolesa G. N. (2020). Physical, mechanical, and optical properties of enset starch from bulla films influenced by different glycerol
concentrations and temperatures. J Food Process Preserv. 2020;00:e14586. http://dx.doi.org/10.1111/jfpp.14586.
Tolesa, G. N. and Workneh, T. S. (2020a). CFD modeling of airflow inside unloaded evaporative cooler, Coolbot-air-conditioner and combined operations. Paper presented at the XXX IHC – Proc. Int. Symp. Strategies and Technologies to Maintain Quality and Reduce Postharvest Losses, Istanbul, Turkey. DOI 10.17660/ActaHortic.2020.1275.40
Tolesa, G. N. and Workneh, T. S. (2020b). A comparison of the influence of different low-cost cooling technologies on tomato cooling time and temperature. Paper presented at the XXX IHC – Proc. Int. Symp. Strategies and Technologies to Maintain Quality and Reduce Postharvest Losses, Istanbul, Turkey. DOI 10.17660/ActaHortic.2020.1275.39
Tolesa, G. N., Ambaw, A. T., Workneh, T. S and Opara, L. O. (2019). The Use of Computation Fluid Dynamics Modeling in the Design Process of Coolers. Acta Horticulture (Accepted and In Press).
Tolesa, G. N., Ambaw, A., Workneh, T. S. and Opara, U. L. (2018, 22–25 October). Analyzing the Distribution of Airflow Inside a Low-cost Tomato Cold Store Room to Evaluate the Efficacy of The Combined Use of Evaporative Cooling and Air Conditioning System. Paper presented at the proceedings of the 12th CIGR Section VI International Symposium, held at the International Institute of Tropical Agriculture, Ibadan, Oyo State, Nigeria (Published).
Tolesa, G. N., Workneh, T. S. and Melesse, S. F. (2018). Logistic regression analysis of marketability of tomato fruit harvested at different maturity stages and subjected to disinfection, storage condition, and storage period treatments. Biological Agriculture & Horticulture, 34(1), 40 – 52. https://doi.org/10.1080/01448765.2017.1368414. (IF (2015) = 765).
Tolesa, G. N., Workneh, T. S. and Melesse, S. F. (2018). Modeling Effects of Pre-Storage Treatments, Maturity Stage, Low-Cost Storage Technology Environment and Storage Period on the Quality of Tomato Fruit. CyTA-Journal of Food, 16 (1), 271-280. https://doi.org/10.1080/19476337.2017.1392616. (IF (2016) = 180).
Tolesa, G. N. and Workneh, T. S (2018). Effects of Evaporative Cooling and Coolbot Air Conditioning on Changes in the Environmental Conditions inside the Cooling Chamber. Acta Hortic. 1201. ISHS 2018. VII Int. Conf. on Managing Quality in Chains & II Int. Symp. on Ornamentals in association with XIII Int. Protea Research Symp. https://org/10.17660/ActaHortic.2018.1201.38 .
Tolesa, G. N. and Workneh, T. S. (2017). Influence of storage environment, maturity stage and pre-storage disinfection treatments on tomato fruit quality during winter in KwaZulu-Natal, South Africa. Journal of Food Science and Technology, 54(10), 3230-3242. https://doi.org/10.1007/s13197-017-2766-6. (IF (2016) = 262).
Diba, D., Bultosa, G. and Tolesa, G. N. (2017). Effect of maturity stages on nutritive quality and sensory properties of Fig fruits. Bots.J.Agric.Appl.Sci., 12 (Issue 1), In Press.
Colle, I. J. P., Lemmen, L., Tolesa, G. N., Van Buggenhout, S., De Vleeschouwer, K., Van Loey, A. M., and Hendrickx*, M. E. (2010). Lycopene Degradation and Isomerization Kinetics during Thermal Processing of an Olive Oil/Tomato Emulsion. Journal of Agriculture and Food Chemistry, 58 (24), 12784–12789, https://dOI:10.1021/jf102934u. (IF = 154).
Presentation of conference papers, posters and proceedings
About The Theme
This theme includes engineering and information technologies, energy, manufacturing, metal industry, power industry, food analysis, agricultural machinery, and emerging research areas.
This research them identifies a number of technology missions for significant targeted investment in key technology fields that are important for the development of the agricultural, health, and  industrial sectors of Ethiopia. These include the engineering and information technology platforms. Thus, technologies for manufacturing and for leveraging resource-based industries such as agriculture, fishing and forestry, mining, power industries, and minerals and energy production will be emphasised. The areas of research include the following technology missions and technology platforms: information communications technology (ICT); farm implements; farm power and agricultural machinery; manufacturing and resource-based industries; manufacturing; power; new emerging research areas such as nanotechnology; synthetic biology etc.