Theme VI. Basic Science Research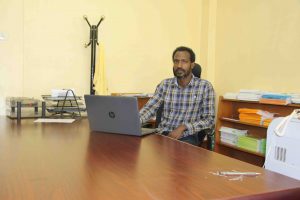 Ayalew Temesgen Eticha (PhD)
Academic Rank: Assistant Professor
Specialization: PhD in Chemistry Education
Research Interest: Problem based learning in chemistry, Students' conceptual change teaching strategies, Visio-Spatial Thinking Skills in Chemistry, Students' misconceptions in chemistry, Learner-Centered Methodology, Collaborative-persuasive learning, and Extraction of natural products.  
Contact Details
Telephone (Mob): +251 911 90 55 65
Email Address:  ayalew_temesgen@yahoo.com
Postal Address: Haramaya University, PO BOX 138, Dire Dawa, Ethiopia
Meseret Amde, Ayalew Temsgen, and Nigussie Dechassa, (2020). Ionic liquid functionalized zinc oxide nanorods for solid-phase microextraction of aflatoxins in food products, Journal of Food Composition and Analysis Volume 91 (2020), 1-7. https://doi.org/10.1016/j.jfca.2020.103528.
Zelalem Tsegaye, Ayalew Temesgen, Yiheyis Bogale (2020). Effect of Analogy Approach on the Concepts of Rates of Chemical Reactions on Students' Achievement and Attitude. AJCE, 2020, 10(2), 33-77.
Ayalew Temesgen Eticha and Geremew Bultosa, (2017). Physico-Chemical Characteristics and Nutrient Composition of Three Grain Amaranth Species Grown in Hirna, Eastern Ethiopia. East Africa Journal of Sciences, Volume 11 (1) 17-26.
Teshome Gonfa, Ayalew Temesgen, Leta Takele, Megersa Feyisa, and Meseret Made, (2017) Datura stramonium L. Seed Oil; Alternative Locally Available Non-edible Feedstock Source for Biodiesel Production in Ethiopia. Proceedings of the 34th Annual Review Workshop of Haramaya University, April, 2017. Page 47-57.
Ayalew Temesgen Eticha and Ochonogor C.E., (2015). Assessment of Undergraduate Chemistry Students' Difficulties in Organic Chemistry. A paper presented on ISTE International Conference on Mathematics,  Science  and  Technology  Education,  Held  at  the  Mopani  Camp  in  Kruger National Park, South Africa. A proceedings paper published by UNISA Press; PP, 285-296. ISBN 978-1-86888-833-7.
Ayalew Temesgen Eticha and Ochonogor C.E., (2014). The impact of ball and stick models in stereochemistry lessons on students' visualization and achievement. A  paper  presented  on  ISTE  international  conference  on  mathematics,  science  and  technology education, Held at Limpopo, South Africa. A proceedings paper published by UNISA Press; PP, 319-329. ISBN: 978-1-86888-800-9.
Ayalew Temesgen Eticha and Ochonogor E.,  (2014).  Effect  of  Gigsaw  Cooperative  Learning Style  on  Students'  Achievement  in  Organic  Chemistry.  A  paper  presented  on  South  Africa International  Conference  on  Education  (SAICE)  in  2014,  and published by African Academic Research Forum (AARF), PP, 226-242. ISBN 978-0-620-60869-5.
About The Theme
Basic sciences research is a systematic study directed towards greater knowledge or understanding of the fundamental aspects of phenomena. Basic sciences research lays the foundation for advancement in knowledge that leads applications of sciences to problem-solving, occasionally as a result of unexpected discoveries.  Pure basic sciences may also focus on refuting or supporting theories that explain how this world operates, what makes things happen, etc. It is the source of most new scientific ideas and ways of thinking about the world. Basic science research generates new ideas, principles and theories, which may not be immediately utilized but instead, form the basis to modern progress and development of different fields.
Most scientific progress made so far are the results of findings obtained through basic or curiosity driven research. Today's computers for example, could not exist without the pure research in mathematics conducted over a century ago, for which there was no known practical application at that time. Pure research rarely helps practitioners directly with their everyday concerns. Nevertheless, it stimulates new ways of thinking about deviances that have the potential to revolutionize and dramatically improve how practitioners deal with a problem. A new idea or fundamental knowledge is not generated through pure basic sciences research alone but new knowledge could be built through it.