Office of Vice President for Research Affairs organized a grant agreement signing ceremony for 2021/22 Haramaya University Grand Challenge Research Grantwinners on December 14, 2021 at Main Campus Resource Center.
The office recently announced a Grand Challenge Research Grant, and received more than 50 concept notes in response to the call and established the University Scientific Committee for evaluation of the received applications.   The received concept notes has passed through different phases of rigorous evaluation by the University Scientific Committee and 10 projects were accepted for funding for the 2021/22 "HrU Grand Challenge Research Grant" with a budget of more than 29 million Birr.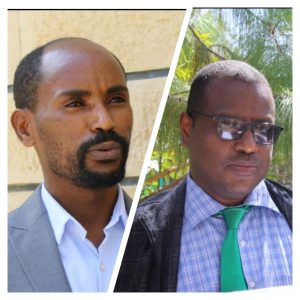 On his welcoming remark, Dr. Tesfaye Lemma, Vice President for Research Affairs, said that "As a research University, Haramaya is working hard to bring innovative, The University currently launched a new research grant called "HrU Grand Challenge Research Grant" in addition to the existing 5 research grants types." He added that, the grant aims to bring innovative, problem solving, multi/trans discipline research projects by collaborating senior researchers with early career researchers or graduate students. The University has allotted a huge budget for research projects with the aim of bringing tangible community changes at regional and national level.
Director for Research groups and Partnerships Directorate Dr. Deribachew Bekana, in his turn stated that Haramaya University is differentiated as a research University and currently working to become one of research excellence center in Ethiopia.  As a result, the University focus on more on research activities and the new 'Grand Research Challenge' grant will pave an opportunity for graduate students to work with senior researches with professional diversities. In order to reduce previous research projects budget deficit, the University coordinated the research budget it receives from the government and its partners and allotted money for the "HrU Grand Challenge Research Grant."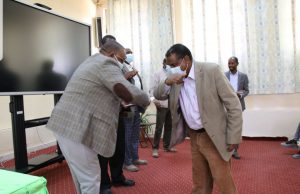 Professor Jeylan Wolyie, Vice President for Administration and Student Affairs and Delegated President of the University, on his closing remark said that, "this new research grant will enable the University to maintain its significant contribution to the country's research activities and fulfill its responsibility for the development of the country by producing more scientific findings for cross- cutting issues."
According to Professor Jeylan, the winning research projects will enable scholars in the various fields of study to work together avoiding fragmented studies. He emphasized on that, the University and the government expects the winning projects to come up with better results, complete projects as planned and promised that the University will provide the necessary supports to for the successful accomplishment of the projects.
On the Grant contract signing program, Principal Investigators of  2021 "HrU Grand Challenge Research Grant" 10 wining projects signed an grant contract agreement with Dr. Tesfaye, Vice President for Research affairs. Moreover, a certificate of appreciation has been given for the University Scientific Committee members who were reviewing concept notes and proposals.